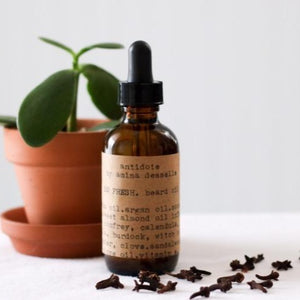 antidote by amina desselle
SO FRESH Beard Oil
Regular price
$22.00
$0.00
Unit price
per
Heal and moisturize skin. Soothe razor burn. Condition facial hair. Prevent razor bumps. Reduce inflammation. Tame flyaways. Relieve dryness and flaking. Add luster and shine. 
(1)     1 oz.   Beard Oil
Beard oil for facial hair, face, and scalp that absorbs into skin and hair quickly for moisture and shine. Clove and sandalwood essential oils heal skin and provide a soft, warm fragrance. A simple and necessary addition to your daily routine.
Use 2-3 drops after a shower or after washing your face. Rub into face and facial hair for moisture and shine.
Ingredients: Argan Oil, Jojoba Oil, Fractionated Coconut Oil, Sweet Almond Oil (infused with Comfrey, Witch Hazel, Calendula, Stinging Nettle, Lavender, Burdock Root, and Clove), Sandalwood Essential Oil, Clove Essential Oil, Vitamin E. 
[antidote] products are made using natural, organic ingredients. Ingredients and packaging are subject to change or substitution depending on seasonal, sustainable, and ethical availability.
NOTE: [antidote] products have not been evaluated by the Food and Drug Administration (FDA). All information provided is for educational purposes only. [antidote] products are not intended to diagnose, treat, cure, or prevent any disease. [antidote] products are not intended to replace medical diagnosis or treatment by a licensed physician. 
---