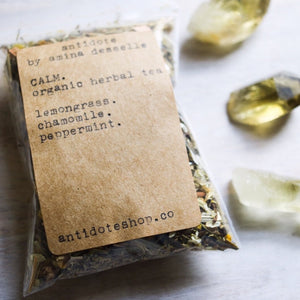 antidote by amina desselle
CALM Organic Herbal Tea
Regular price
$10.00
$0.00
Unit price
per
(1)     10 g   Organic Herbal Tea
Unwind with this soothing blend of fragrant, organic herbs. Formulated to ease your mind and body into rest, calm your stomach and your nerves, and clear your mind. Relieve stress and support your peace with this tea -- perfect for after meals, evenings, and before bed.
Bring water to a boil. Add herbs and let steep, covered, for 5-10 minutes. Strain herbs, breathe deeply, and enjoy.
[antidote] products are made using natural, organic ingredients. Ingredients are subject to change or substitution depending on seasonal, sustainable, and ethical availability.
NOTE: [antidote] products have not been evaluated by the Food and Drug Administration (FDA). All information provided is for educational purposes only. [antidote] products are not intended to diagnose, treat, cure, or prevent any disease. [antidote] products are not intended to replace medical diagnosis or treatment by a licensed physician. 
---