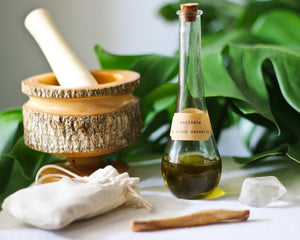 antidote by amina desselle
Custom Herb-Infused Body Oil
Regular price
$32.00
$0.00
Unit price
per
Request a customized organic herbal oil infusion to support your personal wellness and skincare goals. Each oil infusion is formulated to maximize therapeutic and energetic benefits for physical and emotional support.  
Contact [antidote] for a personalized experience.
(1)     2 oz   Herb-Infused Body Oil
[antidote] products are made with natural, organic ingredients. Ingredients and packaging are subject to change or substitution depending on seasonal, sustainable, and ethical availability.
NOTE: [antidote] products have not been evaluated by the Food and Drug Administration (FDA). All information provided is for educational purposes only. [antidote] products are not intended to diagnose, treat, cure, or prevent any disease. [antidote] products are not intended to replace medical diagnosis or treatment by a licensed physician.
---