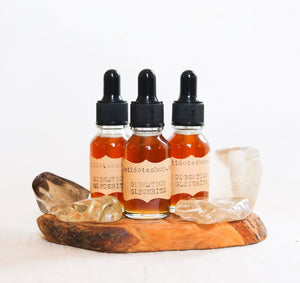 antidote by amina desselle
DIGESTION Glycerite
Regular price
$20.00
$0.00
Unit price
per
Honor your body's process. Transform energy. Remember your center.
(1)    1 oz. Digestion Glycerite 
Digestion is the way our bodies convert food into energy. We also process stress and emotion in our gut. This organic infusion is made with herbs that support the body in restoring balance, providing relief from gas, bloating, and digestive discomfort. 
Take two dropperfuls under your tongue or in a beverage, up to three times daily. Best before meals. 
Ingredients: Organic Dandelion Root, Dandelion Leaf, Peppermint, Lemongrass, Lemon Balm, Fennel, Orange Peel, Ginger, and Chamomile extracted in organic vegetable glycerin and distilled water.
[antidote] products are formulated with organic, natural ingredients. Ingredients and packaging are subject to change or substitution depending on seasonal, sustainable, and ethical availability.
NOTE: [antidote] products have not been evaluated by the Food and Drug Administration (FDA). All information provided is for educational purposes only. [antidote] products are not intended to diagnose, treat, cure, or prevent any disease. [antidote] products are not intended to replace medical diagnosis or treatment by a licensed physician. 
---