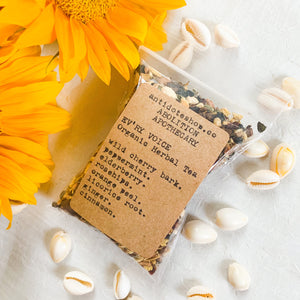 antidote by amina desselle
EV'RY VOICE Organic Herbal Tea (Throat Soothing)
Regular price
$12.00
$0.00
Unit price
per
Sustain your voice. 
(1)     10g   Organic Herbal Tea
The EV'RY VOICE Herbal Tea supports your respiratory and immune systems. Drink hot to recover from vocal strain, chest congestion, or sore throat. Your voice is sacred! 
Ingredients: Organic Wild Cherry Bark, Peppermint, Elderberry, Rosehips, Orange Peel, Licorice Root, Ginger, and Cinnamon. 
[antidote] products are formulated with organic, natural ingredients. Ingredients and packaging are subject to change or substitution depending on seasonal, sustainable, and ethical availability.
NOTE: [antidote] products have not been evaluated by the Food and Drug Administration (FDA). All information provided is for educational purposes only. [antidote] products are not intended to diagnose, treat, cure, or prevent any disease. [antidote] products are not intended to replace emergency medical treatment, medical diagnosis, or treatment by a licensed physician or mental healthcare professional. Consult a physician before use if you are pregnant or breastfeeding.
---