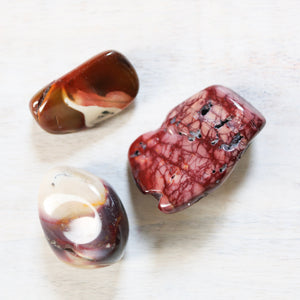 antidote by amina desselle
HEART HEAL. Mookaite Jasper Crystal
Regular price
$8.00
$0.00
Unit price
per
(1)     Mookaite Crystal (charged for healing and meditation)
Mookaite is an Australian Jasper that amplifies feelings of self-worth. It helps to ground you in the natural world. This stone is useful in uncovering the true reasons for avoidance and procrastination, improving motivation and confidence. Mookaite is a useful ally in times of loss and grief, as it supports you in maintaining healthy perspective and self-love. Your crystal will be intuitively selected for you. Each crystal is pocket-sized (2"-4"). Cleared with salt and charged by moonlight. 
Keep your crystal in a place where you can see it regularly. Hold it in meditation or carry it with you through the day. 
A portion of each crystal sale will be donated to labor organizations that advocate for the rights of miners in the country from which the crystal is sourced.
NOTE: [antidote] products have not been evaluated by the Food and Drug Administration (FDA). All information provided is for educational purposes only. [antidote] products are not intended to diagnose, treat, cure, or prevent any disease. [antidote] products are not intended to replace medical diagnosis or treatment by a licensed physician.
---