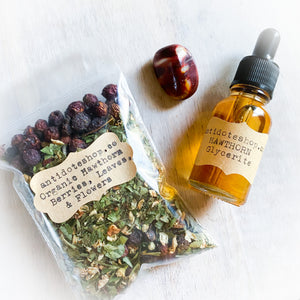 antidote by amina desselle
Hawthorn & Mookaite Jasper Meditation Set
Regular price
$28.00
$0.00
Unit price
per
(1)     1 oz  Organic Hawthorn Glycerite
(1)     10g   Organic Hawthorn Tea
(1)     Mookaite Jasper Crystal
Hawthorn and Mookaite Jasper support is to open our hearts to give and receive love. They encourage us to sustain reciprocal relationships and networks of support. This pairing resonates with the Root, Heart, and Crown Chakras. Together, they offer a soothing energy through grief and transition, reminding us to imagine new ways to love, even through heartache. 
Engage Plant and Crystal Meditation Sets for a daily energetic reminder, or with the guided Plant & Crystal Meditations available here.
 
Hawthorn Glycerite 
Made with Hawthorn berries, leaves, and flowers, the Hawthorn Glycerite supports our hearts. They help ease the muscles of your heart to allow blood to flow more freely, improving circulation to get your body what it needs. Hawthorn also supports us in opening our emotional hearts, allowing us to more clearly recognize the flow of love that supports our life. Let this glycerite bring you Hawthorn's gentle reminder to create mutually sustaining, loving relationships with yourself, other people, and the natural world. Take two dropperfuls under your tongue or in a beverage. Safe for daily use.
Ingredients: Organic vegetable glycerin and distilled water infused with Hawthorn berries, leaves, and flowers (Crataegus monogyna).
Hawthorn Tea
For a tea that heals your hears physically and emotionally, bring water to a boil. Add herbs and let steep, covered, for 5-10 minutes. Strain herbs, breathe deeply, and enjoy.
Ingredients: Organic Hawthorn berries, leaves, and flowers (Crataegus monogyna).
Mookaite Jasper Crystal
Mookaite is an Australian Jasper that amplifies feelings of self-worth. It helps to ground you in the natural world. This stone is useful in uncovering the true reasons for avoidance and procrastination, improving motivation and confidence. Mookaite is a useful ally in times of loss and grief, as it supports you in maintaining healthy perspective and self-love. Your crystal will be intuitively selected for you. Each crystal is pocket-sized (2"-4"). Cleared with salt and charged by moonlight. Keep your crystal in a place where you can see it regularly. Hold it in meditation or carry it with you through the day. 
[antidote] products are formulated with organic, natural ingredients. Ingredients and packaging are subject to change or substitution depending on seasonal, sustainable, and ethical availability.
NOTE: [antidote] products have not been evaluated by the Food and Drug Administration (FDA). All information provided is for educational purposes only. [antidote] products are not intended to diagnose, treat, cure, or prevent any disease. [antidote] products are not intended to replace medical diagnosis or treatment by a licensed physician.
---