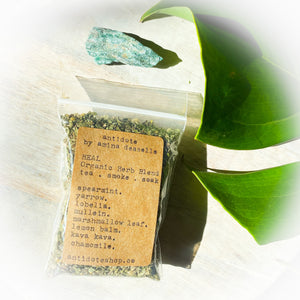 antidote by amina desselle
HEAL Organic Herb Blend
Regular price
$12.00
$0.00
Unit price
per
Recover yourself. Calm your nerves, relax your muscles. Reduce inflammation and ease tension. Support your breath. Inhabit your body. Get comfortable. 
(1)     10 g   Organic Herb Blend
The HEAL Organic Herb Blend is formulated to support your respiratory and digestive systems, made with organic herbs that energetically support your peace. This blend is especially recommended for those on the journey of reducing or quitting tobacco use. 
Ingredients: Organic Mullein, Kava Kava, Lobelia, Marshmallow Leaf, Yarrow, Spearmint, and Lemon Balm. 
For tea: Bring water to a boil and remove from heat. Use a tea infuser to steep herb blend in hot water. Remove herbs from water after 5 minutes and enjoy.
For bath soak: Make tea from herb blend (see above instructions). Add tea to bath or foot soak.
For smoke: Place a small amount of herb blend in a pipe or rolling papers. 


[antidote] products are made using natural, organic ingredients. Ingredients and packaging are subject to change or substitution depending on seasonal, sustainable, and ethical availability.
NOTE: [antidote] products have not been evaluated by the Food and Drug Administration (FDA). All information provided is for educational purposes only. [antidote] products are not intended to diagnose, treat, cure, or prevent any disease. [antidote] products are not intended to replace medical diagnosis or treatment by a licensed physician. 
---