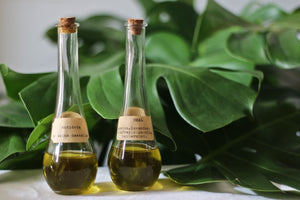 antidote by amina desselle
HEAL Body Oil
Regular price
$22.00
$0.00
Unit price
per
Recover yourself. Calm your nerves, relax your muscles. Reduce inflammation and ease tension. Release unhealthy burdens from the past. Inhabit your body. Get comfortable.
(1)      2 oz   Herb-Infused Body Oil
One of the most popular [antidote] body oils, HEAL Body Oil is formulated to help you feel comfortable in your body. This moisturizing oil is made with organic plant companions to ease inflammation for relief from joint pain and muscle tension. Use daily for best results.
Directions: Use as a moisturizer for body, face, and hair. Apply a few drops to your skin after a bath or shower for the natural benefits of the plant ingredients. Add a small amount of body oil to your bath or foot soak for soft skin, or use as a massage oil. For external use only.
 [antidote] Body Oils carry the light fragrance of the infused herbs and flowers, but are otherwise unscented. The natural fragrance may deepen over time. Optional aromatherapy fragrance with natural essential oils available.
Optional fragrance: Essential oils of Arnica, Chamomile, and Helichrysum. 
Ingredients: Sweet Almond Oil and Jojoba Oil infused with Arnica, Comfrey, Lavender, Chamomile, and Peppermint, Vitamin E Oil.
[antidote] products are made using natural, organic ingredients. Ingredients and packaging are subject to change or substitution depending on seasonal, sustainable, and ethical availability.
NOTE: [antidote] products have not been evaluated by the Food and Drug Administration (FDA). All information provided is for educational purposes only. [antidote] products are not intended to diagnose, treat, cure, or prevent any disease. [antidote] products are not intended to replace medical diagnosis or treatment by a licensed physician. 
---