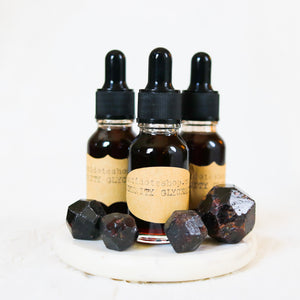 antidote by amina desselle
IMMUNITY Glycerite
Regular price
$20.00
$0.00
Unit price
per
Cultivate your capacity to resist. 
(1)   1 oz. Immunity Glycerite
Immunity describes our capacity to resist. Even when we are vulnerable, we strengthen our ability to defend ourselves against what is toxic to us. Our bodies provide so many lessons for us as we resist biological and social stressors, at the same time. This sweet infusion is formulated with plant companions who support us in supporting ourselves. Take the Immunity Glycerite regularly to keep your energy up and help your body defend itself. Caring for our bodies and spirits allows us to better care for one another. Immunity supports community!
Take two dropperfuls under your tongue or in a beverage, up to three times daily. Safe for children.
Ingredients: Organic Elderberry, Ginger, Orange Peel, Rosehips, Cinnamon, Stinging Nettle, Yarrow, Licorice, Lemon Balm, Peppermint extracted in organic vegetable glycerin and distilled water.
[antidote] products are formulated with organic, natural ingredients. Ingredients and packaging are subject to change or substitution depending on seasonal, sustainable, and ethical availability.
NOTE: [antidote] products have not been evaluated by the Food and Drug Administration (FDA). All information provided is for educational purposes only. [antidote] products are not intended to diagnose, treat, cure, or prevent any disease. [antidote] products are not intended to replace medical diagnosis or treatment by a licensed physician. 
---