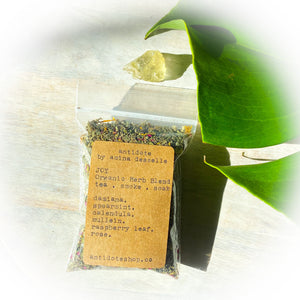 antidote by amina desselle
JOY Organic Herb Blend
Regular price
$12.00
$0.00
Unit price
per
Transform negative thoughts and feelings into positive perspectives. Embrace the possibilities of the moment. Prioritize your happiness. Manifest abundance.
(1)     10 g   Organic Herb Blend
The JOY Organic Herb Blend is formulated with organic herbs and flowers to support energy and and optimism.  
Ingredients: Organic Damiana, Mullein, Raspberry Leaf, Spearmint, Rose, and Calendula.
For tea: Bring water to a boil and remove from heat. Use a tea infuser to steep herb blend in hot water. Remove herbs from water after 5 minutes and enjoy.
For bath soak: Make tea from herb blend (see above instructions). Add tea to bath or foot soak.
For smoke: Place a small amount of herb blend in a pipe or rolling papers. Light and inhale.
[antidote] products are made using natural, organic ingredients. Ingredients and packaging are subject to change or substitution depending on seasonal, sustainable, and ethical availability.
NOTE: [antidote] products have not been evaluated by the Food and Drug Administration (FDA). All information provided is for educational purposes only. [antidote] products are not intended to diagnose, treat, cure, or prevent any disease. [antidote] products are not intended to replace medical diagnosis or treatment by a licensed physician. 
---