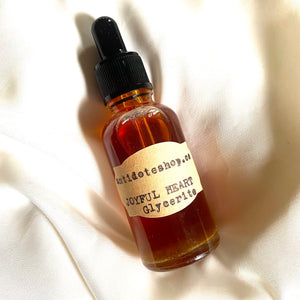 [antidote] by amina desselle
JOYFUL HEART Glycerite
Regular price
$16.00
$0.00
Unit price
per
1 oz.    Organic Herbal Glycerite 
The JOYFUL HEART Glycerite is formulated to support you in reconnecting to the passions that motivate you in life. It is made with plant companions that support our emotional hearts in staying playful, adaptable, and open to change. Add two dropperfuls to any beverage for a boost of energy and a loving reminder to find what moves you, to focus on what is meaningful to you, and to follow your passions into your purpose.
Ingredients: Damiana (Turnera diffusa), Hawthorn leaves, flowers, and berries (Crataegus monogyna & C. laevigata), Peppermint (Mentha piperita), Orange peel (Citrus sinensis), and Rose (Rosa damascena) extracted in organic vegetable glycerin and natural spring water.
NOTE: [antidote] products have not been evaluated by the Food and Drug Administration (FDA). All information provided is for educational purposes only. [antidote] products are not intended to diagnose, treat, cure, or prevent any disease. [antidote] products are not intended to replace medical diagnosis or treatment by a licensed physician. Consult a doctor before use, especially if you are pregnant or breastfeeding. 
---