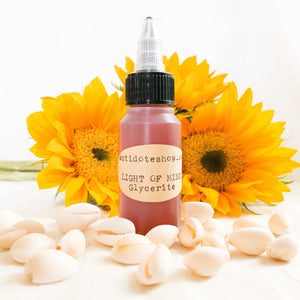 antidote by amina desselle
LIGHT OF MINE Glycerite (Energy, Motivation, Clarity)
Regular price
$20.00
$0.00
Unit price
per
Honor your light. Spread warmth and joy. Motivate with hope.

(1)      1 oz.  LIGHT OF MINE Glycerite
Intended for moments of emotional fatigue, the LIGHT OF MINE Glycerite offers a combination of organic herbs that support motivation, mental clarity, and emotional balance.  Take several drops in any beverage or under your tongue for plant-based encouragement to move forward with hope and collective strategy.

Ingredients: Organic vegetable glycerin and distilled water infused with Damiana, Schisandra Berries, Holy Basil, Eleuthero, Rosemary, Cinnamon, Peppermint, Orange Peel, Reishi, Ginger.
Packaged in soft plastic for portability.
[antidote] products are formulated with organic, natural ingredients. Ingredients and packaging are subject to change or substitution depending on seasonal, sustainable, and ethical availability.
NOTE: [antidote] products have not been evaluated by the Food and Drug Administration (FDA). All information provided is for educational purposes only. [antidote] products are not intended to diagnose, treat, cure, or prevent any disease. [antidote] products are not intended to replace emergency medical treatment, medical diagnosis, or treatment by a licensed physician or mental healthcare professional. Consult a physician before use if you are pregnant or breastfeeding.
---