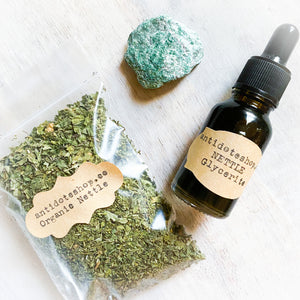 antidote by amina desselle
Stinging Nettle & Fuchsite Meditation Set
Regular price
$28.00
$0.00
Unit price
per
(1)     1 oz Organic Stinging Nettle Glycerite
(1)     10g   Organic Stinging Nettle Tea
(1)     Fuchsite Crystal
Stinging Nettle and Fuchsite remind us to protect ourselves and honor our gifts. They support us in seeking nourishment in our environments to nurture our personal and collective growth. This pairing supports the Heart and Root Chakras. Together, Nettle and Fuchsite encourage us to take responsibility for our own healing. 
Engage Plant and Crystal Meditation Sets for a daily energetic reminder, or with the guided Plant & Crystal Meditations available here.
Nettle Glycerite 
Stinging Nettle is a plant ancestor who offers physical and emotional nourishment. Nettle leaves have a high mineral content, and they are especially supportive of the kidneys and urinary tract. This extract in organic vegetable glycerin provides the support and total nourishment of Nettles in a way you can engage daily. Take two dropperfuls in any beverage or under your tongue, up to three times a day.
Ingredients: Organic vegetable glycerin and distilled water infused with organic Stinging Nettle (Urtica dioica).
Nettle Tea
For a nourishing infusing, bring water to a boil. Add herbs and let steep, covered, for 5-10 minutes. Strain herbs, breathe deeply, and enjoy.
Ingredients: Organic Nettle (Urtica dioica).
Fuchsite Crystal 
Fuchsite is a stone that supports healing work. It encourages you to take responsibility for your own health and your own growth. It helps you access your intuition and receive divine guidance. It clears distractions from your spiritual path.  Your crystal will be intuitively selected for you. Each crystal is pocket-sized (1-3"). Cleared with salt and charged by moonlight. Keep your crystal in a place where you can see it regularly. Hold it in meditation or carry it with you through the day.  


[antidote] products are formulated with organic, natural ingredients. Ingredients and packaging are subject to change or substitution depending on seasonal, sustainable, and ethical availability.
NOTE: [antidote] products have not been evaluated by the Food and Drug Administration (FDA). All information provided is for educational purposes only. [antidote] products are not intended to diagnose, treat, cure, or prevent any disease. [antidote] products are not intended to replace medical diagnosis or treatment by a licensed physician.
---