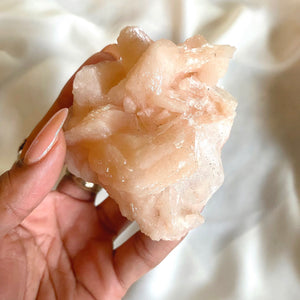 [antidote] by amina desselle
Peach Stilbite with Clear Apophyllite Crystal
Regular price
$42.00
$0.00
Unit price
per
(1) Stilbite and Apophyllite Crystal
Peach Stilbite and Clear Apophyllite are a dreamy zeolite combination for heart healing and psychic release. Stilbite has a soothing vibration of acceptance and encouragement, reminding you that you are lovable because of who you are. Apophyllite supports you in recognizing and addressing emotional wounds that you carry. Together, these crystal companions bring forth your innocence and support you in releasing insecurities, so you can be comfortable being yourself. Keep your crystal in a place where you can see it regularly, or hold it in meditation.
Cleared with salt and charged by moonlight.
 NOTE: All information provided is for educational purposes only. [antidote] products are not intended to diagnose, treat, cure, or prevent any disease. [antidote] products are not intended to replace medical diagnosis or treatment by a licensed physician.
---