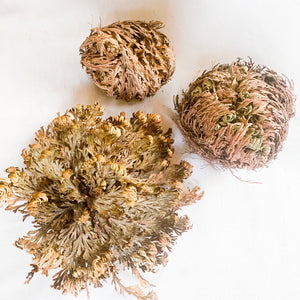 antidote by amina desselle
Rose of Jericho
Regular price
$8.00
$0.00
Unit price
per
Nourish yourself. You are abundant.
(1)   Rose of Jericho Plant
The Rose of Jericho, also known as the Resurrection Plant, is a desert plant that can survive for long periods without water. It curls into a ball as it dries out, but it will open and turn green when it receives water. It can revive itself many times. The water from the Rose of Jericho can be used to bless and protect you and your home. This plant offers lessons of survival, adaptability, and self-renewal. 
NOTE: [antidote] products have not been evaluated by the Food and Drug Administration (FDA). All information provided is for educational purposes only. [antidote] products are not intended to diagnose, treat, cure, or prevent any disease. [antidote] products are not intended to replace medical diagnosis or treatment by a licensed physician. 
---