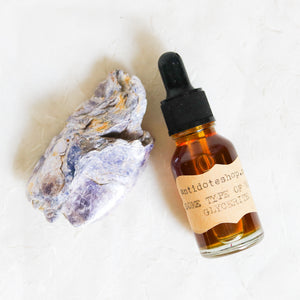 antidote by amina desselle
SOME TYPE OF WAY Glycerite
Regular price
$20.00
$0.00
Unit price
per
Honor your emotions. Accept your changes. Speak the truth. 
(1)   1 oz.   Some Type of Way Glycerite

The SOME TYPE OF WAY Glycerite is formulated with organic herbs to support calm and ease anxiety, especially social anxiety. It is intended to encourage honest communication through emotion, and to help you set compassionate boundaries. This sweet tasting glycerite will help you maintain your balance and protect your peace. 
Take two dropperfuls under your tongue or in a beverage, up to three times daily. 
Ingredients: Organic Lemon Balm, Skullcap, Chamomile, and Yarrow extracted in organic vegetable glycerin and distilled water.
[antidote] products are formulated with organic, natural ingredients. Ingredients and packaging are subject to change or substitution depending on seasonal, sustainable, and ethical availability.
NOTE: [antidote] products have not been evaluated by the Food and Drug Administration (FDA). All information provided is for educational purposes only. [antidote] products are not intended to diagnose, treat, cure, or prevent any disease. [antidote] products are not intended to replace medical diagnosis or treatment by a licensed physician. Consult a physician before use, or avoid use, if you have been diagnosed with epilepsy or serious liver disease. Not recommended for use during pregnancy or when breastfeeding.

---