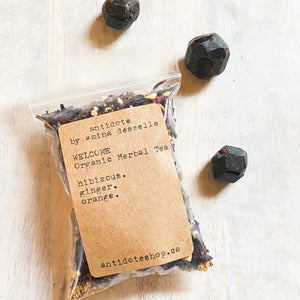 antidote by amina desselle
WELCOME Organic Herbal Tea
Regular price
$10.00
$0.00
Unit price
per
 (1)   10 g Organic Herbal Tea Blend
In this soothing herbal tea, the deep taste of hibiscus flowers mingles with the sweetness of dried orange peels and the sharp warmth of ginger. Together, these plant companions invite us into the infinite possibilities of the present moment.  Add honey for sweetness, and sip this tea for a warm moment of comfort and gratitude.
For tea: Bring water to a boil and remove from heat. Use a tea infuser to steep herb blend in hot water (or steep and strain). Remove herbs from water after at least 5-10 minutes and enjoy.

Ingredients: Organic Hibiscus, Ginger, and Orange Peel.
[antidote] products are made with natural, organic ingredients. Ingredients and packaging are subject to change or substitution depending on seasonal, sustainable, and ethical availability.
NOTE: [antidote] products have not been evaluated by the Food and Drug Administration (FDA). All information provided is for educational purposes only. [antidote] products are not intended to diagnose, treat, cure, or prevent any disease. [antidote] products are not intended to replace medical diagnosis or treatment by a licensed physician.
---